Descripción
Las proteínas ProteinsPure & Active Membrane son difíciles de obtener y mantener. Por lo tanto, ofrecemos una selección de proteínas de membrana puras y activas para su comodidad. MC4R (receptor 4 de melanocortina) de H. sapiens se expresó en SF9 (baculovirus) y se purificó con nuestra resina de agarosa PureCube Rho1D4 de alta calidad.
| Catalogo | Producto | Presentación |
| --- | --- | --- |
| CU-28401 | Proteina MC4R | 10 ug |
| CU-28403 | Proteina MC4R | 50 ug |
Caracteristicas
Alternative names
MC4-R, Melanocortin receptor 4
UniProt Number
QP32245
Protein class
GPCR (G-protein coupled receptor)
Organism
Human (Homo sapiens)
Sequence, explained
Full-length, wildtype sequence GSSG spacer and C-terminal Rho1D4-tag (TETSQVAPA)
Sequence, One-Letter Code
MKTIIA LSYIFCLVFA MVNSTHRGMH TSLHLWNRSS
YRLHSNASES LGKGYSDGGC YEQLFVSPEV FVTLGVISLL
ENILVIVAI AKNKNLHSPM YFFICSLAVA DMLVSVSNGS
ETIVITLLNS TDTDAQSFTV NIDNVIDSV ICSSLLASIC
SLLSIAVDRY FTIFYALQYH NIMTVKRVGI IISCIWAACT
VSGILFIIY SDSSAVIICL ITMFFTMLAL MASLYVHMFL
MARLHIKRIA VLPGTGAIRQ GANMKGAIT LTILIGVFVV
CWAPFFLHLI FYISCPQNPY CVCFMSHFNL YLILIMCNSI
IDPLIYALR SQELRKTFKE IICCYPLGGL CDLSSRYENL
YFQGGS SGTETSQVAPA
Affinity tags
C-terminal Rho1D4-tag
Expression Host
T. Ni insect cells (baculovirus expression system)
Size (excluding additional elements)
339 kDA
Buffer composition
20 mM Hepes, pH 7.5; 100 mM NaCl; 2 mM EDTA; 0,1 % DM
Purity
>98%, determined via SDS-PAGE
Homogeneity
Size exclusion chromatography
Purified via
PureCube Rho1d4 agarose resin
Function
Receptor specific to the heptapeptide core common to adrenocorticotropic hormone and alpha-, beta-, and gamma-MSH. Plays a central role in energy homeostasis and somatic growth. This receptor is mediated by G proteins that stimulate adenylate cyclase (cAMP)
Preparación
Expression system: T.ni (Baculovirus)
Purification: PureCube Rho1D4 Agarose and size exclusion chromatography
Buffer: 20 mM Hepes, pH 7.5; 100 mM NaCl; 2 mM EDTA; 0,1% decylmaltoside
Form: Liquid
Control de Calidad
Pureza: (SDS-PAGE): >95% de acuerdo a lo determinado por SDS-PAGE, ver Fig. 1
Homogeneidad: Tamaño exclusión a cromatografía
Actividad: No determinado
Aplicaciones
• SDS-PAGE
• Western Blot
• Protein Crystallization
• Biochemical and biophysical analyses
• Ligand binding assays (e.g. SPR)
Envio y Almacenamiento
Este producto se envia en hielo seco y se almacena a -80°C. Evitar los ciclos de congelación y descongelación.
Imagenes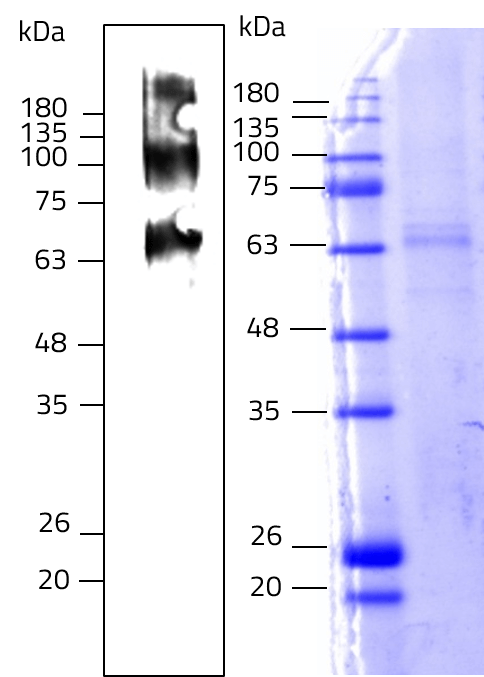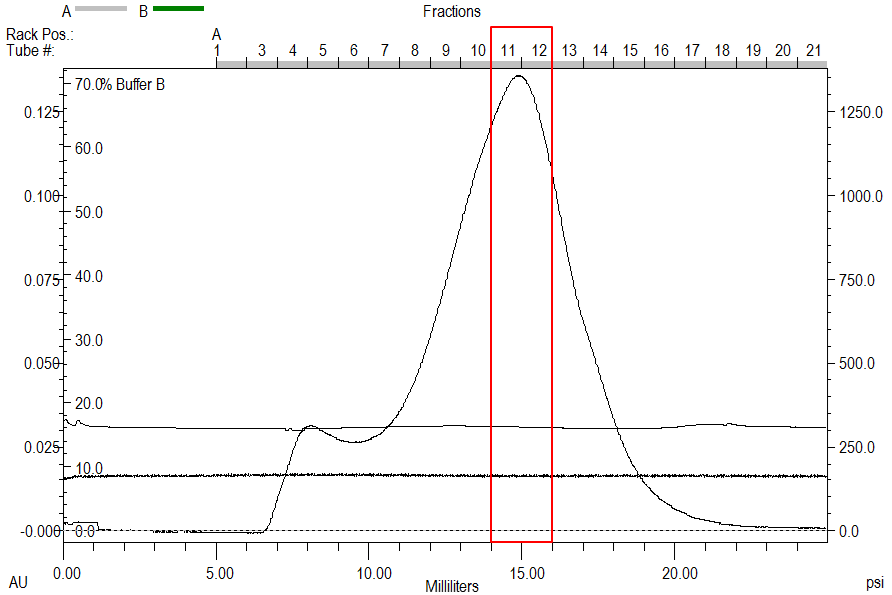 Descargo de responsabilidad: Nuestros productos están destinados para investigacion en aplicaciones de biología molecular. Estos productos no están destinados al diagnóstico, prevención o tratamiento de una enfermedad.