El Kit Cell Meter™ de detección de multiplexación apoptótica y necrótica *Tres colores de fluorescencia*, en particular está diseñado para monitorear células apoptóticas, necróticas y sanas. 
Descripción
Kit Cell Meter™ de detección de multiplexación apoptótica y necrótica *Tres colores de fluorescencia*
Nuestros kits de ensayo Modelo Cell Meter™ son un conjunto de herramientas para monitorear la viabilidad celular. Hay una variedad de parámetros que se pueden utilizar. Este kit en particular está diseñado para monitorear células apoptóticas, necróticas y sanas.
La apoptosis se describe como un proceso activo y programado de desmantelamiento celular autónomo que evita provocar inflamación. En la apoptosis, la fosfatidilserina (PS) se transfiere a la membrana externa de la membrana plasmática. Como indicador universal de las etapas inicial/intermedia de la apoptosis celular, la aparición de fosfatidilserina en la superficie celular puede detectarse antes de que se observen los cambios morfológicos. El sensor PS utilizado en este kit tiene fluorescencia verde al unirse a la PS de la membrana.
La necrosis se ha caracterizado como muerte celular pasiva y accidental que resulta de perturbaciones ambientales con liberación incontrolada de contenidos celulares inflamatorios. La membrana impermeable pierde su integridad demostrado por la tinción del núcleo con 7-AAD (Ex/Em = 546/647 nm), esto representa un enfoque sencillo para demostrar la apoptosis y la necrosis en etapa tardía. Además, este kit proporciona un colorante para marcar el citoplasma de células vivas CytoCalcein™ Violet 450 (Ex/Em = 405/450 nm).
Este kit está optimizado para detectar apoptosis celular (verde), necrosis (verde y/o rojo) y células sanas (azul) con un citómetro de flujo y un microscopio de fluorescencia.
Nombre en Inlges: Cell Meter™ Apoptotic and Necrotic Multiplexing Detection Kit *Triple Fluorescence Colors*
| Catalogo | Producto | Presentación |
| --- | --- | --- |
| AAT-22840 | Kit Cell Meter™ de detección de multiplexación apoptótica y necrótica *Colores de fluorescencia triple* | 100 pruebas |
Importante: Solo para uso en investigación (RUO). Producto se entrega en refrigeración y se debe almacenar a <-15°C. Minimizar exposición a la luz.
Plataforma
Citómetro de flujo
| | |
| --- | --- |
| Excitación | 405 nm, 488 nm laser |
| Emisión | 450/40 nm, 530/30 nm, 670/14 nm filter |
| Especificaciones instrumento | Pacific Blue, FITC, canal PE-Cy5 |
Microscopio de Fluorescencia
| | |
| --- | --- |
| Excitación | DAPI, FITC, filtro Texas Red |
| Emisión | DAPI, FITC, filtro Texas Red |
| Placa recomendada | Pared negra, fondo claro |
Componentes
| | |
| --- | --- |
| Componente A: 100X Apopxin™ Green | 1 vial (200 µL) |
| Componente B: Buffer de ensayo | 1 botella (50 mL) |
| Componente C: 200X 7-AAD | 1 vial (100 µL) |
| Componente D: CytoCalcein™ Violet 450 | 1 vial (polvo liofilizado) |
PREPARACION DE SOLUCIONES DE STOCK
A menos que se indique lo contrario, todas las soluciones madre no utilizadas deben dividirse en alícuotas de un solo uso y almacenarse a -20 °C después de la preparación. Evite los ciclos repetidos de congelación y descongelación.
Solución madre CytoCalcein™ Violet 450 (200X):
Agregue 100 µL de DMSO en el vial de CytoCalcein™ Violet 450 (Componente D) para preparar una solución madre de CytoCalcein™ Violet 450 200X. Proteger de la luz.
Para una guia sobre la preparación de muestras de células, visite
https://www.aatbio.com/resources/guides/cell-sample-preparation.html
Imagenes
Figura 1. Las imágenes de fluorescencia que muestran células vivas (azul, teñidas con CytoCalcein™ Violet 450), apoptóticas (verde, teñidas con Apopxin™ Green) y necróticas (rojas, indicadas por tinción con 7-AAD) en células Jurkat inducidas por 1 µM de Estaurosporina durante 3 horas. Las imágenes de fluorescencia de las células se tomaron con un microscopio de fluorescencia Olympus a través del canal Violet, FITC y Texas Red respectivamente. Las imágenes individuales tomadas de cada canal de la misma población celular se fusionaron como se muestra arriba. Izquierda: células de control no inducidas; Derecha: tinción triple de células inducidas por estaurosporina.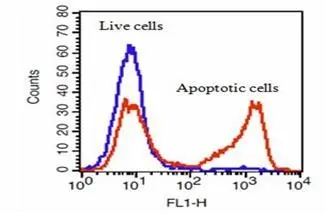 Figura 2. La detección de la actividad de unión de Apopxin™ Green a la fosfatidilserina en células Jurkat. Las células Jurkat se trataron sin (A. Blue) o con estaurosporina 1 μM (A. Red) en una incubadora de CO2 a 37oC, al 5 % durante 5 horas y luego se cargaron con Apopxin™ Green durante 30 minutos. La intensidad de fluorescencia de Apopxin™ Green se midió con un citómetro de flujo FACSCalibur (Becton Dickinson) utilizando el canal FL1.
Productos Relacionados
Bibliografía
Transcriptional coregulator Ess2 controls survival of post-thymic CD4+ T cells through the Myc and IL-7 signaling pathways
Authors: Takada, Ichiro and Hidano, Shinya and Takahashi, Sayuri and Yanaka, Kaori and Ogawa, Hidesato and Tsuchiya, Megumi and Yokoyama, Atsushi and Sato, Shingo and Ochi, Hiroki and Nakagawa, Tohru and others,
Journal: Journal of Biological Chemistry (2022)
Acrylonitrile Butadiene Styrene (ABS) and Polycarbonate (PC) Filaments Three-Dimensional (3-D) Printer Emissions-Induced Cell Toxicity
Authors: Farcas, Mariana T and Stefaniak, Aleks and r B , undefined and Knepp, Alycia K and Bowers, Lauren and M, undefined and ler, William K and Kashon, Michael and Jackson, Stephen R and Stueckle, Todd A and Sisler, Jenifer D and Friend, Sherri A and others, undefined
Journal: Toxicology Letters (2019)
Anthocyanin-rich blackcurrant extract inhibits proliferation of the MCF10A healthy human breast epithelial cell line through induction of G0/G1 arrest and apoptosis
Authors: Nanashima, Naoki and Horie, Kayo and Chiba, Mitsuru and Nakano, Manabu and Maeda, Hayato and Nakamura, Toshiya
Journal: Molecular Medicine Reports (2017): 6134–6141
Clusterin signals via ApoER2/VLDLR and induces meiosis of male germ cells
Authors: Riaz, Muhammad Assad and Stammler, Angelika and Borgers, Mareike and Konrad, Lutz
Journal: American Journal of Translational Research (2017): 1266
Detecting Apoptosis, Autophagy, and Necrosis
Authors: Coleman, Jack and Liu, Rui and Wang, Kathy and Kumar, Arun
Journal: Apoptosis Methods in Toxicology (2016): 77–92
Referencias
Ver todas las 71 referencias: Citation Explorer
Synergistic effects and mechanisms of combined tumor necrosis factor-related apoptosis-inducing ligand and chemotherapeutic drugs or radiotherapy in killing laryngeal squamous carcinoma cells in vitro
Authors: Zhang M, Zhou L.
Journal: Zhonghua Er Bi Yan Hou Tou Jing Wai Ke Za Zhi (2009): 565
Down-regulation of myeloid cell leukemia 1 by epigallocatechin-3-gallate sensitizes rheumatoid arthritis synovial fibroblasts to tumor necrosis factor alpha-induced apoptosis
Authors: Ahmed S, Silverman MD, Marotte H, Kwan K, Matuszczak N, Koch AE.
Journal: Arthritis Rheum (2009): 1282
Agmatine protects cultured retinal ganglion cells from tumor necrosis factor-alpha-induced apoptosis
Authors: Hong S, Kim CY, Lee JE, Seong GJ.
Journal: Life Sci (2009): 28
Exaggerated up-regulation of tumor necrosis factor alpha-dependent apoptosis in the older mouse liver following reperfusion injury: targeting liver protective strategies to patient age
Authors: Selzner M, Selzner N, Chen L, Borozan I, Sun J, Xue-Zhong M, Zhang J, McGilvray ID.
Journal: Liver Transpl (2009): 1594
Oxidant stress-induced liver injury in vivo: role of apoptosis, oncotic necrosis, and c-Jun NH2-terminal kinase activation
Authors: Hong JY, Lebofsky M, Farhood A, Jaeschke H.
Journal: Am J Physiol Gastrointest Liver Physiol (2009): G572
A pharmaceutical preparation of Salvia miltiorrhiza protects cardiac myocytes from tumor necrosis factor-induced apoptosis and reduces angiotensin II-stimulated collagen synthesis in fibroblasts
Authors: Ling S, Luo R, Dai A, Guo Z, Guo R, Komesaroff PA.
Journal: Phytomedicine (2009): 56
Increased apoptosis in HepG2.2.15 cells with hepatitis B virus expression by synergistic induction of interferon-gamma and tumour necrosis factor-alpha
Authors: Shi H, Guan SH.
Journal: Liver Int (2009): 349
Outside-to-inside signaling through transmembrane tumor necrosis factor reverses pathologic interleukin-1beta production and deficient apoptosis of rheumatoid arthritis monocytes
Authors: Meusch U, Rossol M, Baerwald C, Hauschildt S, Wagner U.
Journal: Arthritis Rheum (2009): 2612
Tumor necrosis factor inhibitors block apoptosis of human epithelial cells of the salivary glands
Authors: Sisto M, D'Amore M, Caprio S, Mitolo V, Scagliusi P, Lisi S.
Journal: Ann N Y Acad Sci (2009): 407
Susceptibility of the C2 canine mastocytoma cell line to the effects of tumor necrosis factor-related apoptosis-inducing ligand (TRAIL)
Authors: Elders RC, Baines SJ, Catchpole B.
Journal: Vet Immunol Immunopathol (2009): 11
Application Notes
Abbreviation of Common Chemical Compounds Related to Peptides
Annexin V
Calcein
Human High Temperature Requirement Serine Protease A1 (HTRA1) Degrades Tau Protein Aggregates
Abbreviation of Common Chemical Compounds Related to Peptides
FAQ
What filters should I use for Apoptosis/Necrosis Assay Kit (Cat No. 22840)?
Are inflammasomes and caspase-1 related?
Do you offer any fluorimetric assays that measure caspase activation/activity in live cells using a flow cytometer?
Does pH and staining temperature affect Annexin V-Phosphatidylserine binding?
Does propidium iodide stain apoptotic cells?
Assaywise
Intracellular pH Measurement with Dual Excitation Fluorescence Sensor BCFL
Nucleic Acid Detection, Quantification and Imaging
A practical guide for use of PE and APC in flow cytometry
Calbryte™ series now available
Fluorescent Phalloidin: A Practical Stain for Visualizing Actin Filaments