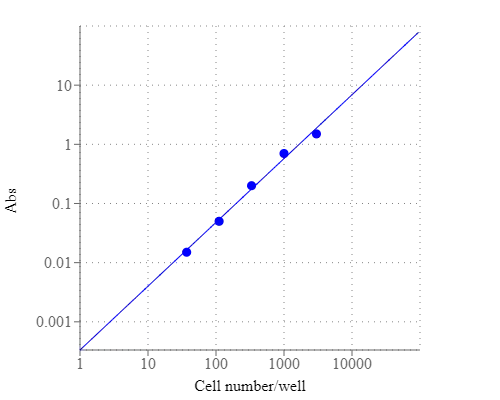 Este kit de Ensayo de Citotoxicidad Celular Colorimétrica Cell Meter™ no requiere una mezcla previa de componentes y tiene una mayor sensibilidad en comparación con los ensayos colorimétricos tradicionales basados en tetrazolio (como WST-8, MTT y XTT).
Descripción
Ensayo de Citotoxicidad Celular Colorimétrica Cell Meter™
El seguimiento de la citotoxicidad celular es una de las tareas más esenciales para el estudio de las funciones celulares. Nuestros kits de ensayo Cell Meter™ son un conjunto de herramientas para monitorear la viabilidad celular. Hay una variedad de parámetros que se pueden utiliza0r.
Este kit utiliza un tinte patentado soluble en agua y permeable a las células que cambia su espectro de absorción al reducirse las células. El cambio de la relación de absorción es directamente proporcional al número de células vivas. Las características de su alta sensibilidad, no radiactividad y método sin lavado hacen que el kit sea adecuado para la detección de alto rendimiento de la proliferación celular o la citotoxicidad frente a una variedad de compuestos.
Este kit no requiere una mezcla previa de los componentes y tiene una mayor sensibilidad en comparación con los ensayos colorimétricos basados en tetrazolio tradicionales (como WST-8, MTT y XTT). El kit proporciona reactivos suficientes para ejecutar 1000 ensayos (tamaño normal) o 5000 ensayos (paquete a granel). Todos los componentes del kit son bastante estables con una citotoxicidad mínima, por lo que es posible un tiempo de incubación más largo (como de 24 a 48 horas) si es necesario.
Nuestro kit de ensayo de citotoxicidad celular colorimétrica Cell Meter™ es robusto y cómodo de usar. Se puede adaptar fácilmente a una amplia variedad de plataformas de instrumentos. El ensayo se puede realizar en un conveniente formato de placa de microtitulación de 96 pocillos o de 384 pocillos.
Nombre en Ingles: Cell Meter™ Colorimetric Cell Cytotoxicity Assay Kit
| Catalogo | Producto | Presentación |
| --- | --- | --- |
| AAT-22779 | Ensayo de Citotoxicidad Celular Colorimétrica Cell Meter™ | 5000 pruebas |
| AAT-22780 | Ensayo de Citotoxicidad Celular Colorimétrica Cell Meter™ | 1000 pruebas |
Importante: Solo para uso en investigación (RUO). Almacenamiento a largo plazo: Congelacion (< -15 °C). Minimizar la exposición a la luz.
Plataforma
Lector de Microplacas de Absorbancia
| | |
| --- | --- |
| Absorbancia | 570/605 nm |
| Placa recomendada | Pared negra/fondo claro |
Imagenes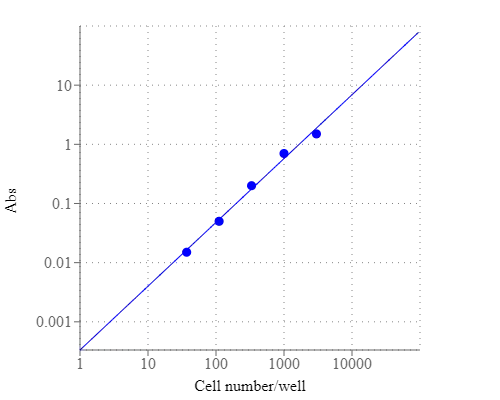 Figura 1. La respuesta del número de células CHO-K1 se midió con el kit de ensayo de citotoxicidad celular colorimétrica Cell Meter™. Se sembraron células CHO-K1 de 0 a 10.000 células/pocillo/100 µl durante la noche en una placa de 96 pocillos Costar de pared negra/fondo transparente. Las células se incubaron con 20 µl/pocillo de solución de ensayo (componente A) durante 3 horas a 37 °C. La intensidad de absorbancia se midió a 570 nm y 605 nm con SpectraMax plus (Molecular Devices). La relación de OD570/OD605 es proporcional al número de células como se indica.
Producto Relacionado
Productos Adicionales
Bibliografias
Anti-Adhesion Behavior from Ring-Strain Amine cyclic Monolayers Grafted on Silicon (111) Surfaces
Authors: Ching, Jing Yuan and Huang, Brian J and Hsu, Yu-Ting and Khung, Yit Lung
Journal: Scientific Reports (2020): 1–15
Bioactivating silicon (100) surfaces with novel uv grafting of cyclopropylamine for promotion of cell adhesion
Authors: Ching, Jing Yuan and Lee, Chieh-Hua and Khung, Yit Lung
Journal: Materials (2018): 713
Grafting of ring-opened cyclopropylamine thin films on silicon (100) hydride via uv photoionization
Authors: Tung, J and Ching, JY and Ng, YM and Tew, LS and Khung, YL
Journal: ACS applied materials \& interfaces (2017): 31083–31094
Detection of thalidomide embryotoxicity by in vitro embryotoxicity testing based on human iPS cells
Authors: Aikawa, Nobuo and Kunisato, Atsushi and Nagao, Kenji and Kusaka, Hideaki and Takaba, Katsumi and Ohgami, Kinya
Journal: Journal of pharmacological sciences (2014): 201–207
Referencias
Ver todas las 72 referencias: Citation Explorer
In vitro micronucleus assay scored by flow cytometry provides a comprehensive evaluation of cytogenetic damage and cytotoxicity
Authors: Bryce SM, Bemis JC, Avlasevich SL, Dertinger SD.
Journal: Mutat Res (2007): 78
In vitro cytotoxicity assays: comparison of LDH, neutral red, MTT and protein assay in hepatoma cell lines following exposure to cadmium chloride
Authors: Fotakis G, Timbrell JA.
Journal: Toxicol Lett (2006): 171
Technical note: assay of cell quantity in the fibroblast-populated collagen matrix with a tetrazolium reagent
Authors: Carlson MA., undefined
Journal: Eur Cell Mater (2006): 44
Evaluation of MTT assay for measurement of emodin-induced cytotoxicity
Authors: Wang X, Ge J, Wang K, Qian J, Zou Y.
Journal: Assay Drug Dev Technol (2006): 203
Sulforhodamine B colorimetric assay for cytotoxicity screening
Authors: Vichai V, Kirtikara K.
Journal: Nat Protoc (2006): 1112
Improved localization of glucose-6-phosphate dehydrogenase activity in cells with 5-cyano-2,3-ditolyl-tetrazolium chloride as fluorescent redox dye reveals its cell cycle-dependent regulation
Authors: Frederiks WM, van Marle J, van Oven C, Comin-Anduix B, Cascante M.
Journal: J Histochem Cytochem (2006): 47
A novel four-colour flow cytometric assay to determine natural killer cell or T-cell-mediated cellular cytotoxicity against leukaemic cells in peripheral or bone marrow specimens containing greater than 20% of normal cells
Authors: Zimmermann SY, Esser R, Rohrbach E, Klingebiel T, Koehl U.
Journal: J Immunol Methods (2005): 63
Tetrazolium dyes as tools in cell biology: new insights into their cellular reduction
Authors: Berridge MV, Herst PM, Tan AS.
Journal: Biotechnol Annu Rev (2005): 127
A differential assay of NK-cell-mediated cytotoxicity in K562 cells revealing three sequential membrane impairment steps using three-color flow-cytometry
Authors: Kasatori N, Ishikawa F, Ueyama M, Urayama T.
Journal: J Immunol Methods (2005): 41
The use of tetrazolium salt-based methods for determination of islet cell viability in response to cytokines: a cautionary note
Authors: Barbu A, Welsh N.
Journal: Diabetologia (2004): 2042
Application Notes
A New Red Fluorescent & Robust Screen Quest™ Rhod-4™ Ca2+Indicator for Screening GPCR & Ca2+ Channel Targets
A New Robust No-Wash FLIPR Calcium Assay Kit for Screening GPCR and Calcium Channel Targets
A Non-Radioactive Photometric Assay for Glucose Uptake in Insulin-Responsive 3T3-L1 Adipocytes
A Novel Fluorescent Probe for Imaging and Detecting Hydroxyl Radical in Living Cells
A Novel NO Wash Probeniceid-Free Calcium Assay for Functional Analysis of GPCR and Calcium Channel Targets
FAQ
How do I measure cell cytotoxicity?
Are coumarins water-soluble?
Are fatty acids made up of triglycerides?
Are inflammasomes and caspase-1 related?
Are NADH and ROS related?
AssayWise
Hydroxyl Radical Detection
Xanthine Assay
Nucleic Acid Detection, Quantification and Imaging
A practical guide for use of PE and APC in flow cytometry
Calbryte™ series now available